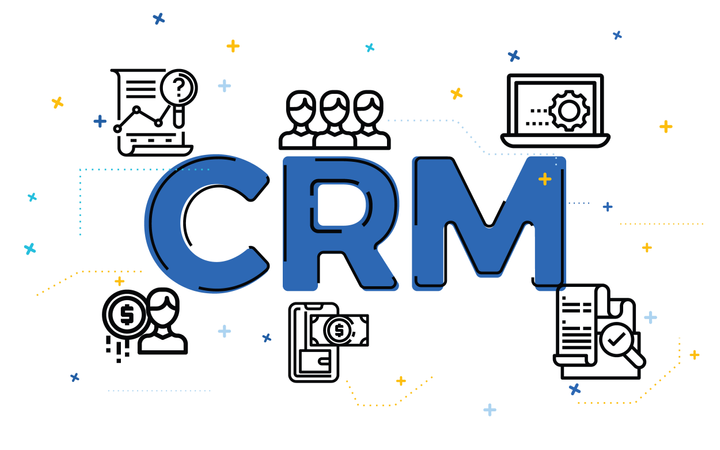 When we talk about "Customer Service" we must think about the best way to know this customer in order to provide a better service, for this we must start by managing our customers . Investing time in this activity is very important, as I already mentioned in a past post, but relying on technology will make it much easier.
CRM stands for Customer Relationship Management , that is, Business Relationship Management. This is a marketing strategy that encourages us to keep as detailed a record as possible of each of the contacts we have with current and potential customers. For this we rely on technology, there are many systems that help us in this activity, through them we can create databases of all the activities we have with our customers: who asks for reports, who buys, who attended, what was he told or sent, every time he buys, etc. It is important to point out that the software does not do all the work, the most important thing is to feed it, so your processes within your company must allow this.
CRM is not a strategy only for large companies, it is for all types, sizes and types of companies. If you have clients and want to manage your business relationships, you need a CRM .
Selecting a CRM is a very important task, since there are from free to super expensive, so I leave you a list of the 6 that I consider the best and another list of those that are free.
Choosing a good CRM has to do with the needs of your company, your budget and the number of users who need to use it. Most CRM companies allow you to purchase trial versions so you can check them out before purchasing.
CRM I recommend
Salesforce
This software is one of the most complete, but also a bit complex for those who are just starting out in the world of CRM.
We start with what many consider to be the most complete offering in this category, a system that is sold as a cloud-based service or cloud computing. This service has many options, from USD 5 per user per month limited to 5 users, up to USD 250 per user in unlimited mode. Something important about this service is that the lower price levels are restricted in several functions, for example the lower plan does not include the ability to convert contacts from your site into leads within the CRM.
Highrise
This CRM is the best way to start using these types of solutions if you have a low budget and a small team. With a price of 24 USD per month you get 6 users, 5GB of storage and 5 thousand contacts. In this system you can manage your contacts, proposals, meeting notes, assign tasks to your team, share documents, capture contacts from your website and convert them into prospects, among other activities.
SugarCRM
This is a platform that allows you to grow as you need. It is an ideal system for medium-sized companies. The access price is quite interesting since for 360 USD per year a large number of options are received, from the basics such as contact management, to advanced issues such as sales forecasts, quotes, product catalogs and quotes per customer. It offers its customers the option of installing the software on local servers or working in the cloud (internet).
GoldMine
A very complete CRM that can be customized to the needs of your company for an extra cost. They charge you for licenses per user, but they offer you business packages. It has different modules that allow you to manage clients, marketing campaigns and sales. In my opinion it is one of the most complete CRM's although I must also say it is one of the most expensive.
vTiger
It is an open source CRM , its license is delivered free of charge with access to technical support at a very reasonable price. A good option for small and medium businesses. Its main strengths are: automation of the sales team, marketing campaigns, activity management, agendas, customer services and inventory to mention the most relevant.
Sumacrm
It is a special CRM for small businesses, the truth is that it is very simple and helps manage clients, projects and tasks. It seems to me one of the best and most practical versions of CRM's that have come out lately. It has a free version for up to two users and if you need more, the costs start from 29 euros per month up to 99. Highly recommended for entrepreneurs, independent professionals and SMEs.
Sum CRM
It also has a free version for up to 2 users, but what I liked is that it has all the features, they don't limit you in anything.
Sugar CRM
Open source web-based CRM software that does not require installation on the users' PC, because they access with the browser. Very complete, fully configurable, intuitive, free. In Spanish.
Hypergate CRM
Free, web-based, on-demand CRM software that does not require installation on users' PCs, because it is accessed through the browser. Very complete. In Spanish.
Research each one very well and check what the needs of your company are before choosing. Ask for the technical support and training part, it is important that you always have someone to accompany you in the installation and use process.